Dubrovnik Winter Festival and New Year's Eve Celebration 2019
The 6th Dubrovnik Winter Festival, organised by the City of Dubrovnik, the Dubrovnik Tourist Board, cultural institutions and public companies, will take place from 30 november 2019 to 1 January 2020 at multiple locations in Dubrovnik's historic centre as well as in other parts of the city.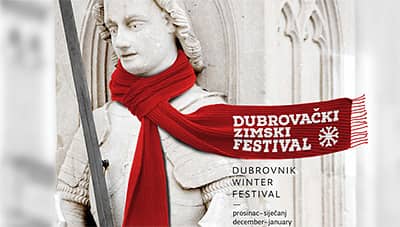 In December, Dubrovnik turns into a Christmas tale, while thousands of lights and Christmas decorations enhance its astonishing beauty. The unique holiday experience is enriched by the Dubrovnik Winter Festival, a project by the City of Dubrovnik, Dubrovnik's public cultural institutions, the Dubrovnik Tourist Board and public companies, featuring a variety of cultural and entertaining vents organised in several locations in the Old City and other parts of Dubrovnik during Advent and the period preceding New Year's Eve Party.
he 6th Dubrovnik Winter Festival will begin on Saturday, November 30, 2019 with the concert of The Frajle, a popular 'ladies band' on Stradun in Old Town Dubrovnik. Shop windows in the Stradun will also be decorated in a special way this year, thus enhancing the overall holiday atmosphere and becoming part of the winter magic. In Stradun, the world's most beautiful open-air stage, a memorable New Year's Eve Party featuring Croatia's most popular singers will be organised, as well as a spectacular concert with one of the most famous Croatian singers Gibonni.
The 6th Dubrovnik Winter Festival is marked with children's programs, and the favorite children's gathering place for the North Pole Station will be at the Bursa Theater this year. Savour Christmas delicacies on offer at kiosks in the squares and streets of Dubrovnik, and sing traditional Christmas songs and carols in the Stradun on Christmas Eve and New Year's Eve, wishing everyone happy holidays!
Dubrovnik Winter Festival and New Year's Eve Celebration 2019 BROCHURE (PDF)
---
Last update: 19.10.2019